Replacements for the Stretch IRA: Life Insurance or Roth Conversions
Replacements for the Stretch IRA need to be considered. Life insurance is one idea to replace the Stretch IRA. Roth Conversions are another option to consider.
In a separate piece, I mention CRUTs as Stretch IRA Alternatives.
Let's look at Life Insurance and Roth Conversions now to replace the Stretch IRA. 
Replacement Options for the Stretch IRA 
If you have extra Required Minimum Distributions (RMDs) that you don't need in order to support yourself during retirement, what can you do with them?
Brokerage Account
Option one is to take the RMDs as they come out and invest them in a brokerage account. You heir will get a step up in basis when you die. You, however have to pay taxes on the dividends and interest while you are alive.
Partial Roth Conversions
Option two is to do partial Roth Conversions. If your heirs are in high tax brackets, it may make sense to pay taxes on the IRA money now so that the heirs inherits tax free Roth money.
In figure 1, you can see suggested conversion amounts. The right three columns show the account balance for the brokerage account, the IRA, and the Roth. By age 87 they are able to convert (and spend) the entire IRA down to zero, leaving a large Roth IRA.
Permanent Life Insurance
Permanent Life Insurance has a bad reputation in physician finance circles. There are accepted uses for whole life insurance. Is legacy one of them? Can you leverage Required Minimum Distributions to leave a larger amount to your heirs?
Let's look at Guaranteed Universal Life Insurance (GUL). This is supposedly the cheapest, most effective way to build a death benefit. Rates of return (IRR for those in the know) are about 5%. Of course, they are much higher than that if you die early, but let's assume a 5% rate of return for the sake of argument. Also, second to die policies are easier to get with less underwriting and less expensive as well. Second to die means the death benefit is not activated until the second spouse dies. This is what you usually want anyway for legacy, as the remaining spouse has access to the accounts until death.
In this case, we can get a $2M policy for yearly premiums of $62,000. Over twenty years, the internal rate of return is 5% on these numbers.
Life Insurance As a Stretch IRA Replacement
For this scenario, I looked at low assumed returns (7% for stock and 4% for bonds) as well as high assumed returns (9% for stocks and 5% for bonds).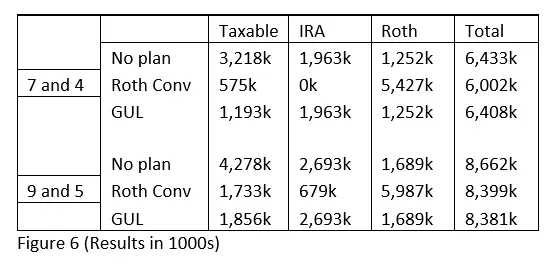 You can see the low and high return assumptions on the left. Then there is No plan, the partial Roth conversion plan, and the second to die GUL plan. Account types and total assets left are on the top.
While the partial Roth conversion plan has 6.3% less assets than the GUL plan ($400,000), both the GUL and No plan have an almost $2M IRA remaining that the heir will have to pay taxes on at ordinary tax rates. Ouch.
No plan has more than $2M more than GUL in the brokerage account. The GUL has a $2M death benefit that is included in the totals above.
With the high rates of return assumption, the GUL does even worse since it returns at 5%. Using a financial calculator, the IRR for the brokerage account with the high return assumptions is 15.6%. This is despite a 60/40 portfolio is paying 9%/5%.  One would expect that 0.6(9) + 0.4(5) = 7.5. However, remember the RMDs are also going into the brokerage account so the money weighted return (or IRR) is actually 15.6% for the account. Smokin'. For the low return assumption, the IRR was 9% rather than the time weighted 5.8%
Conclusion: Stretch IRA Replacements Life Insurance Vs Roth Conversions
Life insurance doesn't really stack up as a replacement for the Stretch IRA. When comparing life insurance to Roth Conversions, I know which I would use!
Partial Roth conversions seem like a worthwhile idea as a replacement for the Stretch IRA.