Average Net Worth of Physicians at Retirement 
Some physicians are excellent accumulators of wealth. Most are not.
What is the average net worth of physicians at Retirement? Doctors are a heterogeneous lot; this much is true. Let's review the epidemiology of doctor retirement and their net worth.
Once you are done here, check out The Retirement Checklist for Physicians.
Epidemiology of Doctors Retiring
When do Doctors Retire?
Source  Figure 1 shows doctor retirement by age. Surprisingly, 58% of doctors retire after the age of 65! However, in the US general population, women retire at age 60-62 and men 62-64. Do doctors retire later on average because of the late start we get after a decade of training?
Why do Doctors Retire?
What does a meta-analysis say as to why doctors retire? According to this study, doctors do indeed retire later than average.
Reasons to quit early include low job satisfaction, medicolegal issues, health concerns, and financial troubles. Reasons to delay retirement include career satisfaction, institutional flexibility, feeling responsible for patients, economic reasons, and a lack of interest outside of medicine. Finances show up on both sides—retire early and delay retirement. What are these financial concerns? Net worth is one of them.
Average Net Worth of Physicians by Age 
Let's look at Doctors' average net worth by age.
Maybe you've seen the data in Figure 2 before. While you can easily retire with less than $5M, especially in traditional retirement, look at the purple bar (net worth> $5M) increase with age. It goes from 3% up to 22%. So, about 1 in 5 doctors over 70 have a net worth greater than $5M.
As I said, moderately depressing. Retirement planning for doctors should be easy, given the high incomes during their careers. However, the $1-5M percentage doesn't change much with age. Sadly, 25% of doctors over 65 never have a nest egg larger than $1M. For a more detailed analysis, let's dive into the Medscape Physician Net Worth 2020 data.  
Medscape's Physician Salary Explorer
First stop for you: check out the Salary Explorer to see how you compare to your peers. Do you make the same as others in your area with the same expertise? Interesting, yes?
I took a pay cut when I started my specialty after being a hospitalist again, so at least for us internal medicine docs, it is interesting to note who earns less than the hospitalists. There probably is a fellowship for hospitalists by now, but in my days, that fellowship was servitude through residency. It looks like endocrine and ID make less than hospitalists—a negative return for fellowship. Let's move on.  
Medscape's Young Physician Compensation Report 2020
The Young Physicians Compensation Report 2020 is always interesting. This is a subset analysis for physicians less than 40 vs. those of us who are past our prime.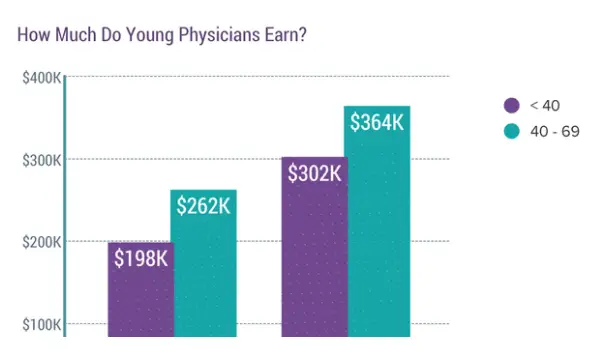 Above, you can see how much young vs. "old" physicians earn—PCPs on the Left, Specialists on the Right.
A funny story, someone asked me how long it took me to make a complicated diagnosis that had challenged the primary team. I said, "15 minutes and 15 years." I'm unsure where you all fall on the experience vs. recent education spectrum, but you can see the difference in a small community hospital.
Physician Average Net Worth Report 2020
And on to the Physician Net Worth Report 2020. Let's take a look at high-net-worth physicians. See this report from 2019 and 2020 (if there is a paywall from the link, google the words, and you should be able to see the advertisement-filled slide show). Interestingly, this was the wealth and debt report in 2019 and the debt and net worth report in 2020. So wealth was demoted and changed to net worth this year. Debt was promoted. Hmm. Anyway, let's dig in!  
Who is worth More than $5M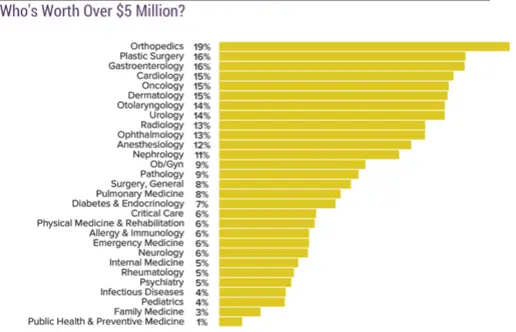 Somewhere between 1 and 19% of your colleagues are worth more than $5M, depending on your specialty. I am disappointed in these numbers, but I have been year after year. Some specialties are lower than they should be, too, depending on income.  
Who is Worth Less than $500k?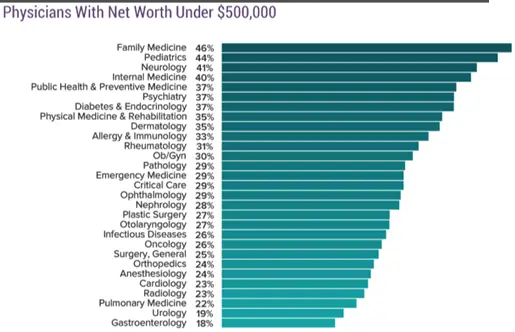 Conversely, 20-50% of your colleges have made almost no progress in building a nest egg. This may be because they are young, but check out a few of your favorites and see the difference between the top and the bottom specialties.  
What Expenses Are Being Paid Off?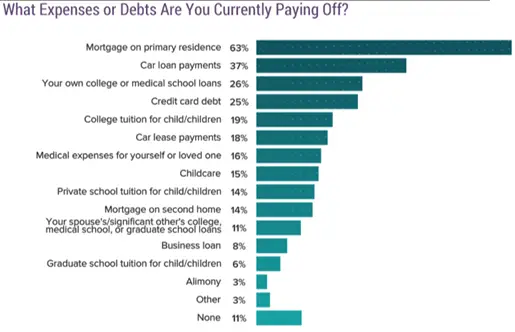 This is interesting as well. More than 60% of physicians have a mortgage. Yet, amazingly, almost 40% have a car loan. Honestly, car loans? But since 25% have credit card debt, we must remember that doctors are people too, and financial illiteracy knows no bounds. Only 11% had no expenses or debts.  
Who has the Largest House? Medscape 2020 Physician Net Worth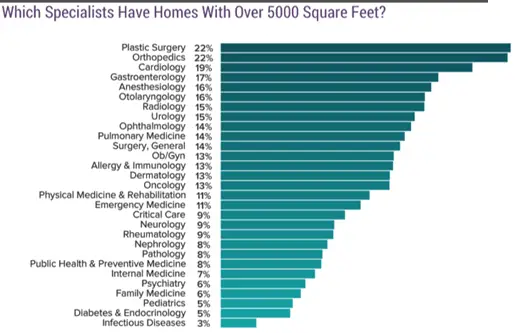 So, who has the doctor's McMansion? The glamour specialties have larger homes, and those poorly-paid specialties have smaller houses.  
Who has the Largest Mortgage?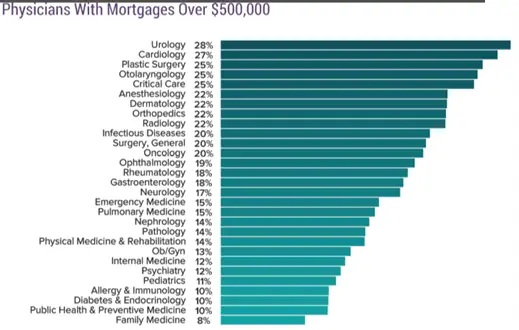 Who still owes a large amount on their McMansion? Again, pick your favorite specialties and see the difference in the size of the home and how many still have large mortgages.  
2020 Doximity Physician Compensation Report
Doximity releases a compensation report as well. Of interest here are metro areas with the highest and lowest compensation for physicians. There is only a 15% difference between the highest and lowest metro area, so location may not be a game-changer from the income perspective. However, it would be interesting to see these locations with income over the cost of living for the metro areas… There is also some interesting information on wage growth and the gender gap.  
In summary, voyeurism is always fun. It is nice for some of us to look in and see how little we are earning and how big other people's homes are. But don't forget; their mortgage is larger than yours. Only 10% of physicians have a net worth greater than $5M. While it is clear you don't really "need" any particular number, the fact is that physicians make a lot of money. It is a shame if they make a lot of money and haven't put away all that much.
Summary of  Average Net Worth of Physicians at Retirement
So, on average, doctors retire later than the general population, yet with more financial resources.
Still, given doctors' high incomes, it is depressing that so many of our colleagues are not better prepared for retirement. Financial concerns are cited as reasons to retire early and retire late.
Physicians can retire early, but always remember that there is a false dichotomy about retirement. Retire early and never retire are two sides of the same coin.