Rick Ferri Updates The Education of an Index Investor
Rick Ferri updates his legacy with A Few Good Funds. The direct link is here.
This is an update to a blog I wrote three years ago when Rick's tweet and podcast attracted my attention to his thoughts on the Education of an Index Investor.
Rick discusses the four stages of index investor education, which, on the record, I'm predicting will change the way we talk about index investing.
Rick Ferri is known in the Boglehead world, both from hosting podcasts and writing books.
One free service he offers is Core-4. These are simple asset allocation suggestions for portfolios for those who have reached the ultimate stage of investor education: simplicity. He says that his book will encourage folks to use these simple portfolios.
The most exciting features of his future book (which might be called "The Education of an Index Investor") are the 3 elements and 4 stages.
Three Elements to a Successful Investment Plan
Philosophy – for index investors this is pretty universal. Low expense index funds
Strategy – for Rick, this is personal. Which funds in which accounts? He states it is the individual way you implement your general philosophy
Disciplined – be patient and stick with it. Just Do It!
4 Stages of Rick Ferri's Index Investor's Education
Darkness – get rich quick. What hot stock tip can you get in the doctor's lounge. This is the pursuit of a "hot stock tip that will make me rich quick."
Enlightenment – reached by an epiphany that low cost index investing is the way to go.
Complexity – rabbit holes such as perfect optimal allocation, products, factor investing paralysis by analysis
Simplicity – you realize that none of the complexity matters, it is all about asset allocation. Complexity provides more money for the financial-industrial complex. Be simple to achieve your goals
I can't wait for Rick Ferri's book to come out. "Financial advisors: there are good ones, bad ones and really bad ones. So, you have a one out of three chance of getting a good one."
Where are you in the Stages of Education? Are you an Index Investor?
Update 2022: Rick Ferri's A Few Good Funds
Instead of a book, Rick Ferri updates his Education of an Index Investor with his talk A Few Good Funds.
Rick focuses on philosophy, discipline, and strategy. The result: simplicity in your portfolio to live a good life! This is similar to his three elements of a successful plan, but discipline moved from last to the middle point. Rick Ferri's experience as a Marine may inform his thoughts on discipline.
He focuses on uniqueness. From different choices in retirement accounts to philosophically acceptable differences in strategy is all fair game for Rick.
Let's start with Rick Ferri's thoughts on the Philosophy behind A Few Good Funds.
Rick Ferri: Philosophy
Rick Ferri talks about the Stages again, from the education of an index investor. These include:
Darkness
What should I do?
Who should I trust? Friends, co-workers, etc
As a result: There is a performance gap due to fees, bad behavior, etc.
                If you don't realize this, you lose out over time because the cap compounds (this is most people)
Enlightenment
When you discover index investing
                But you want to know more. Buy books. "other strategies" factors, alts, optimization… perfection and hedged
Complexity
Slice and dice too much
Overdiversification, which leads to
               analysis paralysis due to minutia
Simplicity
The ultimate nirvana
You don't need to pick up pennies anymore
                Four fund or three-fund portfolio
Rick Ferri: Strategy
Next, develop your strategy. For Rick, this means your Asset Allocation.
Keep it simple. Three or four funds depending on what is available to you and your ultimate goals for the money.
For instance, Risk has his four funds and then tilts, small-cap value, REITs, and has preferred stock. He views these as unnecessary for long-term success: they are icing on the cake.
What is available to you? Do your best. Keep it simple. And get invested!
Rick Ferri: Discipline
We have our plan, and we have done all of our thinking. Now it is time to get it done. Now is the time to get invested!
What matters is the return over your lifetime. What matters 10, 20, or more years from now.
Get your cash invested. Get to your desired asset allocation.
Rick Ferri says discipline means getting invested.
But bad times happen. These are expected and why we have chosen our strategy (asset allocation) and have our philosophy (the four stages of an index investor).
Rick Ferri The 4 Stages of an Index Investor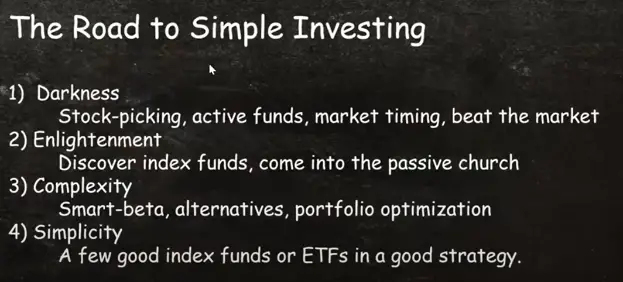 Rick Ferri continues his journey towards a book of investing for those who want to do it right but not do it all the time.
He advocates tirelessly for simplicity and low fees. Rick, you are walking in Bogle's footsteps. Continue the path of a few good funds.